Autumn Tour Japan
Tokyo – Nikko – Yudanaka – Matsumoto – Tsumago (Kiso vallei)- Kyoto – Mount Koya – Osaka
This amazing Autumn Tour has been designed for travelers who love autumn colours. October and November are the best months to travel in Japan. It's neither too hot, too humid, nor too cold, but mainly dry and sunny.
Wild macaque monkeys in an 'onsen'

Autumn colours in the gardens of Kyoto

Overnight stay at the Koyasan temple
Private, tailor-made tour starting from € 1.820, – including transportation, hotels and breakfast.
Our tours can be adapted to suit your requirements or your entire journey can be tailor-made.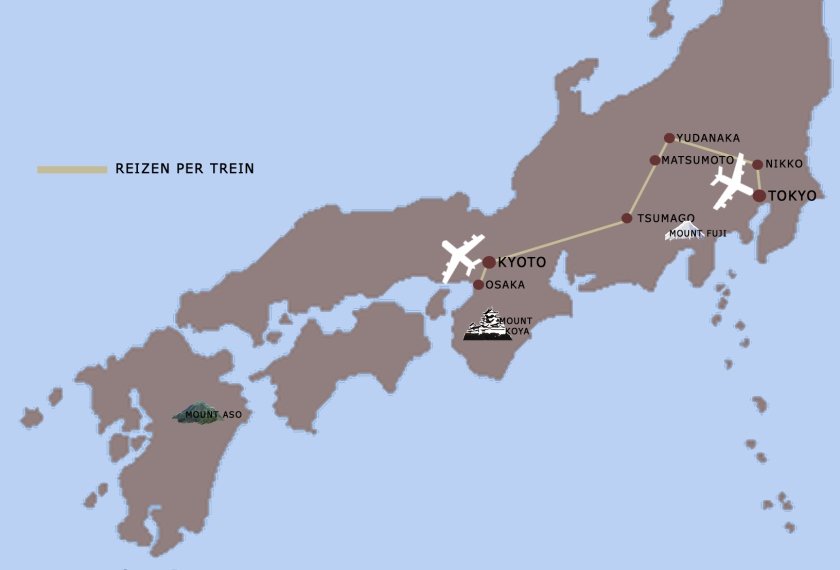 15 day Autumn Tour Japan: day-by-day itinerary
Day 1 Departure from Amsterdam
Day 2 Arrival Tokyo
Tokyo has it all! Lauded as the 'fine dining capital of Japan' – and of the world – Tokyo holds more Michelin stars than any other location.  This vibrant metropolis with its 19 three star restaurants is a true delicacy! Another must-see is the Tokyo Sky tree tower, a 450 meter high massive office tower with a sky deck overlooking Tokyo. On a clear day, you can even see Mt Fuji. Under the nearby railway tracks you will find many typical eateries, where all different types of sushi can be ordered.
Day 3 Tokyo
Early birds can head to the world's biggest fish auction at the very impressive Tsukiji fish market. The Meiji-shrine in the beautiful Harajuku park is an oasis of peace and calm. This Shinto shrine lies in a nice park that particularly in autumn is very popular because of its warm autumn colours. The Harajuku area with its many trendsetting fashion shops is definitely a must-see if you want to immerse yourself in Japanese pop-culture! Sundays are the best time to admire Tokyo youth in their eccentric and stylish Cosplay outfits. In this area one never gets bored!
Day 4 Tokyo (optional Kamakura)
The coastal village of Kamakura is less than an hour's drive from Tokyo. Kamakura offers numerous old temples and shrines and is surrounded by the ocean in the south and by wooded hills in all other directions. This town used to be the capital of Japan from 1185 until 1333. Today you can still visit 19 Shinto temples and 65 Buddhist temples, including two of the oldest Zen monasteries in Japan. Attractive hiking trails lead through the woods along these hills and connect various atmospheric temples. The Daibutsu is a 13 meter high bronzed Buddha from 1252. Just as in Nara, the Buddha was originally covered by a large temple hall, that got destroyed in 1495 by a tsunami. 
Day 5 Tokyo – Nikko
Nikko is one of the most famous temple cities in Japan and lies at the entrance of a National Park. After visiting the many temples and shrines in Nikko, go to the entertainment park Ninja Edo Wonderland. This Japanese open-air theme park showcases traditional Edo period culture and features various themed shows in a fun way.
Day 6 Nikko – Yudanaka
Today the Shinkansen bullet train takes you to the Japanese Alps. On the way you make a stop at Obuse, an old town with many museums and famous for its local sake. Obuse houses a Japanese lantern museum, a ceramic museum and the museum of Hokusai, a renowned artist in Japan. You continue by train to the charming Yudanaka.
Day 7 Yudanaka
From your Japanese ryokan or minshuku a 20 minute walk will lead you to the Jigokudani Hot Spring. It's a real delight to watch wild monkeys playing and bathing in the hot waters. The area is also nice for walking and enjoying nature and village life. In the evening you can enjoy a steaming hot bath in the onsen of your ryokan or minshuku.
Day 8 Yudanaka – Matsumoto
Built in the 1500s, the five-story, six-floor Matsumoto Castle, nicknamed The Crow Castle, is the oldest existing samurai castle in Japan. The park around the castle offers a range of delights in all seasons, as well as a traditional red bridge.
Around 300 years ago, Sakai Yoshiaki's, one of the wealthiest merchants in town, started a collection of Ukiyo-e woodblock prints and other art objects. His living collection continues to expand as his descendants continue to purchase art and woodblock prints. Some of them are currently exhibited at the Ukiyo-e museum. Some other designer artists of woodblock prints are Suzuki Harunobu, Katsushika Hokusai and Ando Hiroshige.
Day 9 Matsumoto – Tsumago
The Kiso Valley was part of the ancient Nakasendo Trail. This trail used to serve as the main mountain route connecting Kyoto to Edo (now Tokyo). In the Edo period samurai, travelers and merchants would all travel on this road. Along the way there are many old post towns. At the request of the Shogun, both samurai and local rulers (Daimyo's) – every second year – had to spend a couple of months in Edo. Tsumago is known today as one of the best preserved post towns in Japan. It goes to great lengths to recreate the original atmosphere of the Edo Period. Old inns and merchant houses are not allowed to be demolished. Luckily the town don't look like an open-air museum; all the old buildings are still fully functional and daily life just goes on as it used to. You spend the night at a traditional minshuku.
Day 10 Tsumago – Kyoto
Kyoto can easily be defined as the cultural as well as ancient capital of Japan, counting almost 2000 temples and shrines. It's impossible to visit all of them, but a few temples are not to be missed, such as the ancient Nijo castle with its cracking floors and refined Chinese wall paintings. Kyoto's ultra-modern Central Station is very impressive, mainly because of its fascinating big stairs. From the roof you can enjoy spectacular views over the city and the colourful surrounding mountains. Nearby you will find the Fushimi Inari-taisha Shrine reachable by a path lined with thousands of orange gates (torii's).
Day 11 Kyoto
The Ryoanji Zen temple (peaceful dragon) has one of the oldest Zen gardens in Japan. For a good meal visit the Nishiki Market. "Kyoto's kitchen" offers everything from Japanese sweets to pickles, sashimi, fresh vegetables, etc. The market has a history of several centuries and many stores have been operated by the same families for generations. At the Gion-district dawn is the best time to catch a glimpse of the famous Geisha's shuffling around on their way to a date. In the enchanting neighbourhood we rent out some well-preserved traditional geisha houses.
Day 12 Kyoto
Why not take a local train to Arashiyama today and visit the Tenryuji temple? This temple is registered as a world heritage site. The landscaped gardens at this temple were the first place in Japan listed as a National Historic Monument. A short walk from here will bring you right into the heart of the famous Bamboo Grove. Could you ever imagine that bamboo could grow so tall?
Day 13 Kyoto – Mount Koya
First you travel by train to Mount Koya, then get transferred to a cable car for the final steep climb to the top of the mountain. Located on an 800 meter high plain, the original monastery has grown into the town of Kōya. The Kongobuji temple is the head temple of Kōyasan Shingon sect within Japanese Buddhism. Here you can visit the mausoleum of Kukai, a Japanese monk, scientist, poet and sect leader from 744 till 835. The mausoleum is surrounded by the archipelago's largest cemetery and Mount Koya is regarded as one of Japan's holiest places. You spend the night at a monastery where the monks will serve you a traditional vegetarian dinner and breakfast.
Day 14 Mount Koya – Osaka
In Osaka don't forget to pay a visit to the world's largest aquarium. Here you can admire enormous 4 meter long whale sharks, manta rays, blue fin tuna and Japan's giant deep sea crabs. At the lively Kuromon market, nicknamed "Osaka's kitchen", both local house wives and restaurants chefs get their supplies. The Doguyasuji market is lined with specialty shops selling cookware, kitchen utensils and restaurant supplies. The America Mura (American Village) is a vibrant area where you can admire Osaka's youth in the most flamboyant fashion styles, hairdo's, piercings, tattoo's etc…. For a last night out in this bustling city, head to the Namba district.
Autumn Tour Japan – tour schedule
| | |
| --- | --- |
| Day 1 | Departure Amsterdam |
| Day 2 | Aankomst Tokyo |
| Day 3 | Tokyo |
| Day 4 | Tokyo |
| Day 5 | Tokyo – Nikko |
| Day 6 | Nikko – Yudanaka |
| Day 7 | Yudanaka |
| Day 8 | Yudanaka – Matsumoto |
| Day 9 | Matsumoto – Tsumago |
| Day 10 | Tsumago – Kyoto |
| Day 11 | Kyoto |
| Day 12 | Kyoto |
| Day 13 | Kyoto – Mount Koya |
| Day 14 | Mount Koya – Osaka |
| Day 15 | Return flight Amsterdam |
Price 15 day Autumn Tour Japan

:

This tour package can be booked from €1.820,- per person, based on double room occupancy and the chosen travel dates.

Many different ways of traveling.

Many different people, many preferences, so many different ways of traveling. Some prefer it simple but good, others want it good, yet with a bit more luxury. Our tours are offered in different price categories.
| | | | | |
| --- | --- | --- | --- | --- |
| € 1.820,– | *** hotels |   | Budget accommodations |   |
| € 2.190,– | **** hotels |   | comfortable 4 star hotels |   |
| € 3.075,– | ***** hotels |   | Deluxe 5 star hotels |   |
Included:
– All accommodation, including breakfast
– 5 dinners (more particularly Noto, Shirakawago and Yudanaka)
– Seven days Japan Rail Pass
– Car rental, including car insurance
– All journeys by train as per itinerary, including by Shinkansen
– Detailed information sheets with maps and translations.
Not included:
– International flights to/from Japan.
– Transfers to/from airports.
– Ferries, local busses and subway.
– Entrance fees, local guide services.
– Travel and Cancellations insurance
– Administration cost € 25,– p.p. (Max € 50,– per file)
– Calamity Fund € 2,50 per file.

Back to iki Tours Japan