'Kyoto for food lovers', 5 day tour
For gourmet food lovers who would love to discover Japan, but wish even more to enjoy it's delicious cuisine, we specially designed 'This Kyoto for food lovers' add-on tour.
Cooking workshops are organised either at a cooking school or privately at an experienced home kitchen. It depends your preferences and the availability of the cooking courses. Some private cooking workshops with Japanese cooking princess are fully booked far in advance. 
Nowadays in the West, many Japanese dishes are known since more and more Japanese restaurants open their doors. This is only a small percentage of what Japan's kitchen has on offer. What do you know about Kyoto's famous pickles? How many different kind of sweets in how many different flavours? Certain commonly used vegetables in Japan, are totally foreign to us. How many kinds of tofu and how many possible ways to prepare tofu?
This '5 days Kyoto for food lovers tour' is an add-on tour to one of Japan's sample tours or any of our tailor made tours in Japan. It's not possible to book an add-on tour separately.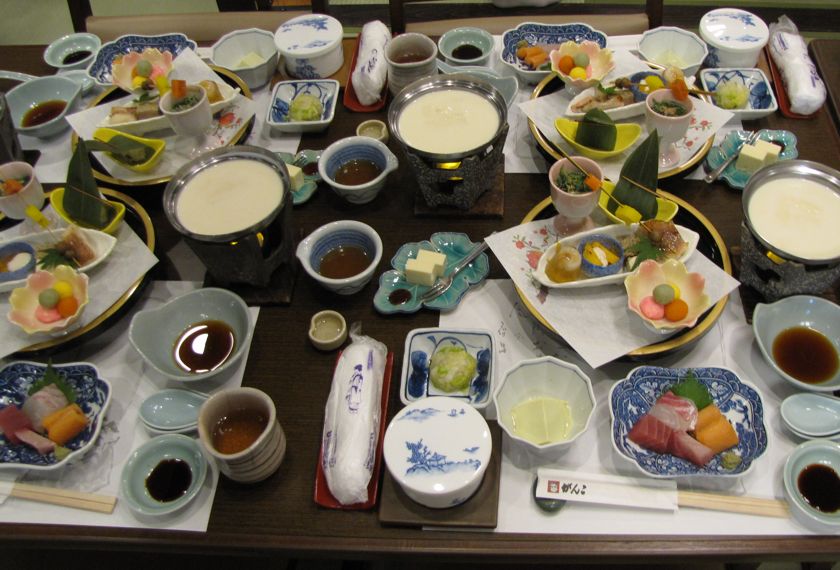 Day 1 Kyoto + extra sweets
In the morning you can enjoy the many delicious treats at the famous Nishiki market. Nicknamed "Kyoto's kitchen", it offers everything from Japanese sweets to pickles, sashimi, fresh vegetables, etc. The market has a history of several centuries and many stores have been operated by the same families for generations. The Hanami-Koji Street is famous for its cherry trees and old merchant houses that now function as restaurants, specialised in Kaiseki Ryori or Japanese Haute Cuisine Kyoto. In the afternoon you will learn how to make Japanese sweets. Japanese people just love sweets which come in endless varieties and flavours. A walk around the Gion-district at night is a top priority. Here you have a good chance to stumble upon the famous geisha scurrying to secret liaisons.
Day 2 Kyoto + cooking dinner
Kyoto is a fantastic city with so much to see and do apart from cooking! You can visit the famous Nijo castle, the Kinkakuji Golden Pavilion as well as the Ryoanji Temple. Walk from the beautiful Otagi Nenbutsu Temple in Sagano to the big Bamboo Grove Forest in Arashiyama. In the late afternoon, we offer a cooking workshop where you will learn how to cook different Japanese foods.
Day 3 Kyoto, tea ceremony and learn how to make sushi
In a traditional Japanese teahouse, you will attend a tea ceremony. A Japanese tea ceremony is a very important ritual that has a lot of meaning within the culture. The green tea ceremony represents purity, tranquillity, respect and harmony and a lot of preparation goes into this important event. Kiyomizudera (literally "Pure Water Temple") is one of the most celebrated temples of Japan with a magnificent view over Kyoto. Through the charming Ninenzaka and Sannensaka streets, lined with traditional shops,, you walk back to Kyoto's old town. Towards the end of the afternoon, it's sushi time! Learning how to make sushi is of course essential on a culinary tour. You will learn that rolling sushi is something you too can master!
Day 4 Kyoto – Nara and a sake brewery
In the morning you visit the famous Todaiji temple in Nara. In order to protect the 15 meter high bronze Buddha statue, it was covered by the world's largest wooden building. It's hard to imagine that before, this building was even twice the size!
On the way back from Nara, you can make a stop in Fushimi to admire to the famous Fushimi Inari Taisha Shrine with its thousands of vermillion torii gates. Fushima is also known for being the leading sake brewing district in the country. Among the local breweries is industry giant Gekkeikan. You visit the Sake museum, where you can taste and purchase their products.
Day 5 Kyoto – Osaka or Kobe
This is where the food lovers tour end, but you could continue your culinary adventure with a visit to the Kuromon market in Osaka, followed by Okonomiyaki in one of the many restaurants in Namba. Or you continue your travels to Kobe, known for its world famous "Kobe Beef". Had enough steak? Then Kobe's Chinatown is the place to go for a culinary splurge.
Stay at a traditional geisha house
During this add-on tour you can stay at a traditional Japanese house in the old town. These houses were the former residence of geisha. No meals are being served, but the house is equipped with a kitchen and cooking facilities and shops, coffeeshops, restaurant and a local market are just around the corner.
For more information on staying at a traditional Japanese house Traditional Japanese house in Kyoto.
Another option of course is to stay in a hotel.
Price of this tour:
The price for this 5 day Kyoto add-on Food tour is 680,-€ per person based on double occupancy
Prices may vary depending on the day (weekend) or travel season.
What's included:
4 nights accommodation at a traditional Japanese house

3 x cooking classes, dinner, sushi and sweets

Attending a tea ceremony

Visit to a sake brewery
What's not included
   Local transport (local taxis, buses, subway, ferries)
– All other meals
– Any entrance fees and/or guide services