4 day hike on the Shinetsu trail
The Shinetsu trail begins at Mount Madarao Trail Head and provides you with the greatest range of scenery. The area is blessed with a rich ecosystem nurtured by Japanese beech tree forests. Along the way you spend the night at local Japanese inns, called minshuku, family-run, Japanese-style bed and breakfasts. Minshuku serve a home-style breakfast as well as dinner. This trail is great for nature lovers and the rewarding views make this hike well worth the effort.
This extension is an add-on on a sample tour or any other tailor-made tour in Japan. It is not possible to book this package separately.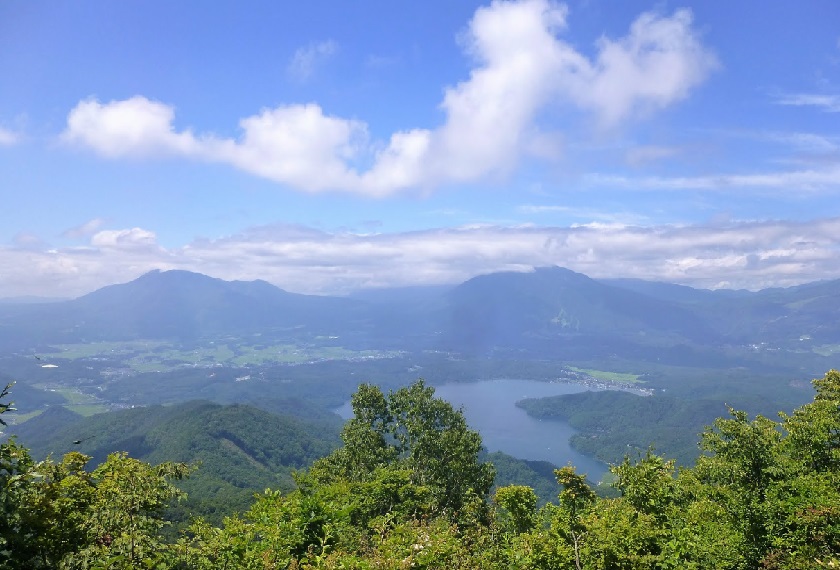 4 day hike on the Shinetsu trail
The Shinetsu trail runs for 80 kilometers and at about 1000 meter above sea level, following the path of the Sekida Mountain Range. It is one of the longest walking trails in Japan and it forms a boundary between the Nagano and Niigate Prefectures. Historically these passages were used for carrying salt and fish from Nagato through the mountains, as well as Uchiyama paper (Japanese paper) and mustard seed oil from Nagano.
Day 1 – Mt. Madarao Trail Head to Lake Akaike (8,5 km – 6 hrs)
The first section of the trail begins at Mt. Madarao Trail Head. On a clear day you can catch a glimpse of the Sedika Mountain Range. Once you reach the Mansaka pass, you will experience beautiful views of the entire Shinetsu Trail. After this, climb up to the peak of Mt. Hakamadake through a beautiful Japanese beech-tree forest. Although there are no great views at the summit, its large, open spaces make it a great place to stop for lunch. After lunch descend to Lake Akaike. Along the road, you may encounter several pagodas. From Lake Akaike you will be picked up and taken to your hotel.
Day 2 – Lake Akaike to Wakui (10,7 km – 6 hrs)
After breakfast you will be dropped back by car at Lake Akaike. From Akaike you start walking to Wakui. The trails runs through the Numanohara Marshlands which blossoms with flowers in spring. From the top of the hill, if the weather is on your side, you will experience some great views of Mt. Madaroa casting a perfect reflection in the lake and of the volcanic Mt. Myoko. The climb to the top of Mt. Kenashi brings you a superb view of the Iiyama Basin, making it a perfect spot for lunch. On the way down you'll come across several natural springs, where you can refill your water bottles. Today's walk ends at Wakui village, where you will be picked up again.
Day 3 – Wakui to Hotokegamine Tozanguchi (12,7 km – 7 hrs)
After breakfast the car takes you back to Wakui. The road passes a reservoir called Lake Sobu, where there is a small shrine by the water and then to Mt. Kuroiwa. The whole mountain is listed as a protected habitat for rare species of butterflies and frogs. Within the beautiful Japanese beech-tree forest, there is a viewing point that overlooks the Iiyama Basin. The trail winds down through old groves of cedar trees and passes over some small streams, before arriving at the parking lot, where a car is waiting for you to bring you back to your accommodation.
Day 4 – Togari onsen
Near your accommodation you will find several onsen (hot springs). A steaming hot bath is an excellent way to relax and unwind from a memorable trek. Or, you head on to your next destination, e.g. Yudanaka of Matsumoto.
This package can be extended to a "7 days extension" by a 6 day trek on the Shinetsu trail.
Price of this package:
The price for a 4 day hike on the Shinetsu Trail is € 380,- per person based on double occupancy.
Prices may vary depending on the day (weekend) or travel season. The price includes three nights' accommodation, including breakfast and dinner.