Okinawa, 5 days
Okinawa is Japan's beach paradise with turquoise blue waters and picturesque white sand beaches. The seas surrounding Okinawa's Islands are considered among the world's most beautiful with coral reefs and abundant marine wildlife. It is a great destination for snorkelling and diving. The sub tropical climate provides mild and sunny weather year round.
This '5 days Okinawa' is an add-on tour to one of Japan's sample itineraries or any of our tailor made tours in Japan.
It is not possible to book these add-on tours separately.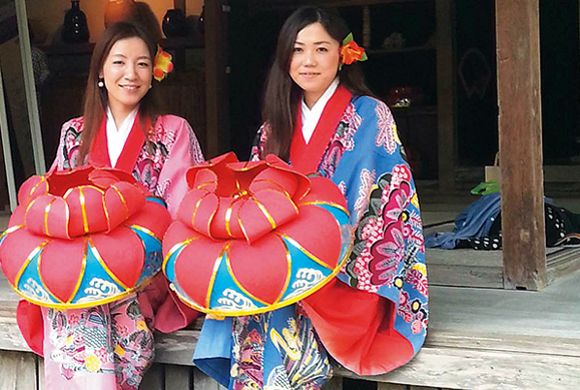 Okinawa, 5 days, 4 nights
Okinawa is a Japanese prefecture comprising more than 150 islands in the East China Sea between Taiwan and Japan's mainland Kyushu. It is famous for its crystal clear turquoise blue waters, white sand beaches and coral reefs. The sunny climate is subtropical with temperatures barely falling below 20 degrees in winter.
International influences on the island and Okinawa Cuisine
This chain of islands, with its own history as an independent kingdom, was known as the Ryukyu Islands, named after the native culture, which is distinctly different from that of the rest of Japan in terms of language, cuisine, arts, etc. The Ryukyu Kingdom flourished through commerce with China, Korea as well as mainland Japan, which greatly influenced the Kingdom creating a unique culture where diverse cultures blend. By the end of the 19th century the Meiji Japanese government abolished the Ryukyu Kingdom and annexed the islands to Okinawa prefecture, accompanied by efforts to assimilate the native population.
The sunny, laid-back island of Okinawa is not just a tropical paradise: it's also a foodie heaven with its own unique set of flavours due to its location and complex history. Naha is the bustling capital with its famous Kokusaidori 'International Road' lined by restaurants, cafes and boutiques. A visit to the old Shuri palace will give you insight in the history of the old kingdom of Okinawa.
Never ending battlefield
Okinawa is the birthplace of karate. Common myths state that karate developed among the indigenous people of Ryukyu Island, because of confiscations of or bans on weapons by the king. To find a different means to defend themselves, martial arts were introduced by the visitors from China. In the south of the island, where the worst fighting of the battle took place, some impressive war monuments have been constructed. Enjoy the spectacular scenery along the island's coastline and visit some of the many tropical gardens on the island. Okinawa is a sub-tropical destination, an ideal getaway and/or extension to your holiday on the Japanese mainland.
Price of this package:
The starting price of this  '5 days Okinawa' package is 610,-€ per person onwards, based on double occupancy.
In July and August, the price is 870,-€ per person, based on double occupancy.
Price may vary depending on the day (weekend) or travel season.
Included in the price: 4 nights' accommodation, including breakfas