Multifaceted Japan, 23 days
23 days
Multifaceted Japan Tour
Ohara – Kyoto – Mount Koya – Hiroshima – Naoshima – Osaka – Takayama – Shirakawago – Kanazawa – Wajima – Yudanaka – Tokyo
iki Travels designed this 23 days Multi faceted Japan tour with a perfect blend of modern and traditional Japan. Once you have been there, you definitely wanna go back. This is just one sample tour out of many possible itineraries.
007 museum on Naoshima Island

Food stalls in Sannomachi Street

Peace Memorial Park, Hiroshima
The starting price of this tailor-made Multifaceted Japan Tour is 3.010,-€ including transport, hotels and breakfast.
Our tours can be adapted to suit your requirements or the entire journey can be tailor made.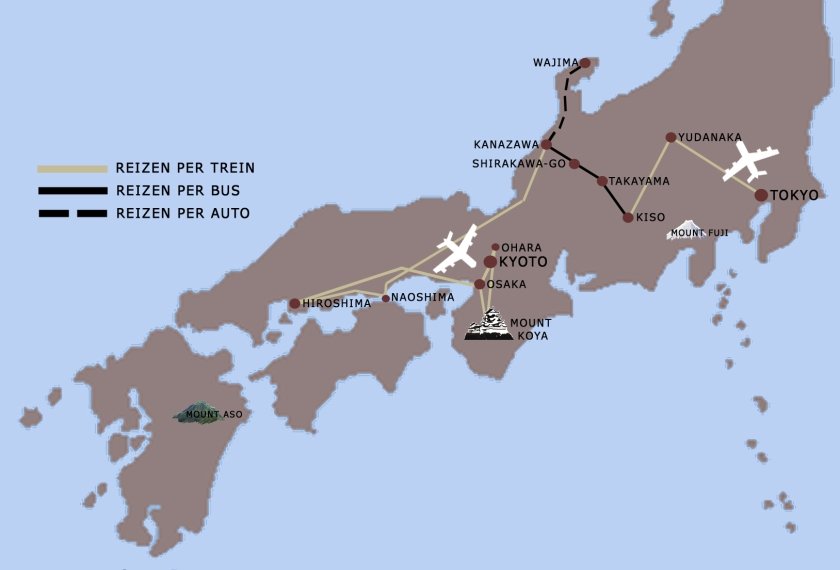 Multifaceted Japan
, day-by-day
Day 1 Flight to Fukuoka
Departure from Schiphol to Fukuoka, on Japan's southern island Kyushu.
Day 2 Arrival Fukuoka
Fukuoka is a modern, enchanting town and a good place to start your journey. Because of its closeness to the Asian mainland (closer to Seoul than to Tokyo), Fukuoka has been an important harbor city since the 7th century. In the evening, enjoy some of the simple and filling treats at Fukuoka's 150 open air food stands. They provide the perfect atmospheric outdoor environment to get acquainted with Japanese food. 
Day 3 Fukuoka
In Fukuoka there is an amazing building called "ACROS Fukuoka". It has two very distinct sides: one side looks like a conventional office building with glass walls, but on the other side there is a huge terraced roof that merges with a park. This side is completely covered by lush and green hanging gardens, that stick out amidst the ultra modern buildings. The Shofukuji Temple, founded in 1195, has the distinction of being the first Zen temple constructed in Japan.
Day 4 Fukuoka – Nagasaki
Deshima was a small artificial island, formed by digging a canal through a small peninsula in the bay of Nagasaki. It was built to constrain foreign traders and later used by the Dutch as a trading post. For a long time, Deshima was the only door open to Europe and gave Nagasaki the status of Japan's sole international trading port. Nagasaki City started to restore the old buildings on Deshima to its 19th century state.
Day 5 Nagasaki
The Nagasaki Atomic Bomb museum is a remembrance to the atomic bombing of Nagasaki. Japan is the only country to have suffered from the wartime use of nuclear weapons. At the Fukusai-ji Temple a bell tolls at 11:02 daily, the exact time of the explosion of the atomic bomb. The Fukusai-ji has been reconstructed in the shape of a turtle with an enormous 18-meter high statue of Kannon, the Buddhist goddess of compassion.
Day 6 Nagasaki
Via Dutch Slope you enter into Chinatown. Nagasaki's Chinatown is the oldest in Japan. Glover Garden is an open air museum hat exhibits mansions of the city's former foreign residents, such as the house of Madame Butterfly. Miss Saigon is a musical based on Puccini's opera Madama Butterfly. The park has great views of the harbor and the city.
Day 7 Nagasaki – Mount Aso
Mount Aso's caldera is one of the largest in the world (18 by 24 km). The scenery is rugged and barren and reminds of a lunar landscape. The crater contains an active volcano which continuously emits smoke and has occasional eruptions.  The acrid smell of sulphur is overpowering.
Day 8 Mount Aso – Usuki
"De Liefde" was a Dutch galleon that stranded in Usuki as the first Dutch ship on April 19, 1600. In Usuki you spend the night at a local homestay, a great chance to experience Japanese family life. Usuki is also known because of its Usuki Sekibutsu (Stone Buddhas), statues of various Buddhas sculpted into a cliff. 
Day 9 Beppu – Hiroshima
By high-speed Shinkansen (bullet train) you travel to Hiroshima. Hiroshima was the primary target of the first nuclear bombing mission. The many monuments and thousands of paper cranes at the Peace Memorial Park and Peace Museum serve as an important reminder of the atrocities of the atomic war.
Day 10 Hiroshima and Miyajima
In the morning, you can visit the Mazda factory that houses world's longest 7 km long assembly line. In the afternoon, travel by local train and ferry boat to Miyajima Island. This place is considered by Japanese people to be one of the three most beautiful attractions in Japan. It is famous for its giant torii gates, which at high tide seem to float on water.
Day 11 Hiroshima – Onomichi
Onomichi Bay is mentioned in many Japanese books and Manga comics. The Senko-Ji temple is the 10th sight on the famous Chugoku 33 Kannon Pilgrimage. It is located on Mount Sekoji and can be reached by ropeway. From the summit there are great views over the city and the suspension bridge to Innoshima.
Day 12 Onomichi – Kyoto
Japan's ancient capital, Kyoto, has something for all tastes. The countless atmospheric temples and shrines, sublime gardens and traditional teahouses are all remnants of a rich past. The Nijo Castle is famous for its many Chinese-style paintings and its squeaking floors, used as a security device to make sure that no one could sneak through the corridors undetected. The Kinkakuji or the Golden Pavilion is one of Japan's main attractions. A walk around the Gion district at night is a top priority! In this atmospheric neighborhood there is good chance you stumble upon the famous geisha scurrying to secret liaisons.
Day 13 Kyoto
The landscape rock gardens at the Ryoanji Zen temple (peaceful dragon) are one of the oldest in Japan. The Nishiki Market, nicknamed "Kyoto's kitchen", offers everything, from Japanese sweets to pickles, sashimi, fresh vegetables, etc. The market has a history of several centuries and many stores have been operated by the same families for generations.
Day 14 Kyoto – Nara – Kyoto
A day trip to Nara, once the capital of Japan, is definitely worthwhile. Nara is on the world heritage list. You can visit the Todaji temple, the world's largest wooden building in the world, housing a 15 meter tall bronze Buddha statue.
Day 15 Kyoto
Pay a visit to the Tenryuji temple, the first place in Japan listed as a National Historic Monument. Afterwards visit the famous Bamboo Grove and be amazed at how tall bamboo can grow. In the evening you can watch how fishermen catch fish with the help of cormorants.
Day 16 Kyoto – Tsumago (Kiso Valley)
The Kiso Valley was part of the old Nakasendo Trail from the Edo Period. Samurai and local merchants travelled it to visit their shogun in Edo. The town and its residents went to great lengths to recreate the ambience of the Edo Period. Old inns, houses and merchant houses are no longer allowed to be demolished.
Day 17 Tsumago – Magome – Tsumago (Kiso Valley)
From Tsumago it is a nice walk to Magome. The walk is 7 kilometers long, but you can also take the bus. The post town Magome resembles how the post town looked in the Edo period hundreds of years ago.
Day 18 Tsumago – Matsumoto
Matsumoto is a mountain city in the Japanese Alps. The city is famous for its good quality wasabi. The 400 years old Black Crow Castle is one of Japan's most beautiful original castles. Not far from the castle, Nakamachi is a street lined by nicely preserved, old buildings, that now house small shops, inns or restaurants.
Day 19 Matsumoto – Tokyo
In the early afternoon you will arrive in this enormous jungle of steel, glass and cement with around every corner a pleasant surprise. In the afternoon you can visit the old Asakusa neighborhood with its famous Senso-ji temple. Roppongi is a lively entertainment district where locals and tourists mix in buzzing bars and night clubs.
Day 20 Tokyo
Tokyo has it all!!! Mouthwatering Japanese cuisine, modern architecture and many charming old neighborhoods. The Meiji-shrine is famous for its 12 meter high gates (torii) made out of cypress wood and is located in the beautiful Harayuku park. The Harajuku district is the hub for Japanese pop-culture and wacky trends. Especially on Sundays, Harajuku attracts quite an interesting gang of cosplayers, teens in eccentric costumes and tourists with cameras.
Day 21 Tokyo
Early birds can visit the Tsukiji fish market. It's a great experience and the sashimi there is ultra-fresh. For picture perfect views of the city, take an elevator to the top floors of the Shinjuku Metropolitan Building. On a clear day, you can even see Mount Fuji.
Day 22 Tokyo
The Ryogoku area, north of Tokyo, is the centre of the sumo world. Here you find the Sumo Stadium surrounded by many sumo stables, chanko restaurants and other sumo-related stuff. Some of these sumo stables can be visited till the early morning hours. In the afternoon you can visit the Sony building or the Toyoto showroom, two entirely different worlds. A stroll through the gardens of the imperial palace is the perfect way to end your Japan tour.
Day 23 Tokyo – Amsterdam
Today is time to return home. The Narita Express will bring you in a fast and efficient way back to the airport.
Multifaceted Japan Tour: day-by-day itinerary
| | |
| --- | --- |
| Day 1 | Flight to Japan |
| Day 2 | Ohara |
| Day 3 | Ohara – Kyoto |
| Day 4 | Kyoto |
| Day 5 | Kyoto |
| Day 6 | Kyoto – Mount Koya |
| Day 7 | Mount Koya – Hiroshima |
| Day 8 | Hiroshima |
| Day 9 | Hiroshima – Naoshima |
| Day 10 | Naoshima – Osaka |
| Day 11 | Osaka – Takayama |
| Day 12 | Takayama |
| Day 13 | Takayama – Shirakawago |
| Day 14 | Shirakawago – Kanazawa |
| Day 15 | Kanazawa – Wajima |
| Day 16 | Wajima – Kanazawa |
| Day 17 | Kanazawa |
| Day 18 | Kanazawa – Yudanaka |
| Day 19 | Yudanaka – Tokyo |
| Day 20 | Tokyo |
| Day 21 | Tokyo |
| Day 22 | Tokyo  – Hakone – Tokyo (optie) |
| Day 23 | Tokyo – Amsterdam / Brussel |
Price Multifaceted Japan Tour:
The starting price of this very complete Multifaceted Japan Tour is  3.010,-€ per person, based on double occupancy and depending on chosen travel dates.
Different ways of traveling
There are many kinds of travellers, all with different preferences, so also many different  ways of traveling. Some travellers prefer simple but good, others prefer good, but with a bit of luxury. Therefore we offer tours in many different price categories:
| | | | | |
| --- | --- | --- | --- | --- |
| € 3.010,– | *** hotels | | classic accommodation | |
| € 3.490,– | **** hotels | | superior 4 star hotels | |
| € 5.170,– | ***** hotels | | Deluxe 5 star hotels | |
What's included:
– All accommodation including breakfast
– 6 dinners, more particularly in Ohara, Mount Koya, Wajima, Shirakawago and Yudanaka
– Car rental including all insurances
– Transfer airport to Ohara
– A 2 weeks Japan Rail pass
– All journeys by train as per itinerary
– Detailed and personalised info pack with maps and translations
What's not included:
– International flight to and from Japan
– Transfer from Tokyo to the airport
– Transport by ferry, local bus and subway
– Entrance fees and local guide services
– Day trip to Nikko cf excursion Nikko
– Return train ticket to Hakone
– Excess insurance, cover up to ¥50.000
– Travel and Cancellation insurance
– Administration fee € 25,-p.p. (Max  50,-per file)
– Calamity Fund € 2,50 per file

Back to iki Tours Japan